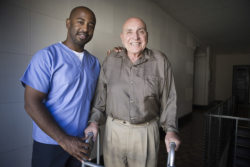 Trinity Home Health Care Services is a privately owned agency with a long term vision to grow and reach out to those in need of nursing services at their own homes. Our dedicated staff members are committed to the success of the company and the wellness of our clients. They are equipped with up-to-date nursing skills and professionalism.
We offer services to seniors and children, long term and short term care, with simple home cooked meals to complex nursing services.
We do many things that affect the health and life of our clients and we do them right. We care about our clients' Care.
At Trinity Home Health Care Services, we will help you manage your health with personalized Home Care. Call us today at – 952-465-1959.
YOUR healthcare at YOUR reach.